15 Mar 2017 - 14:45
to
30 Apr 2017 - 00:00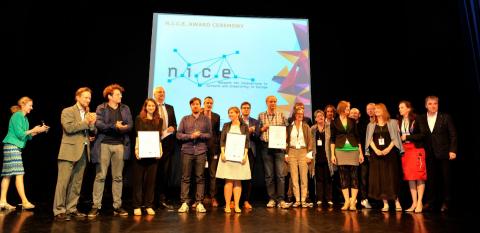 The annual NICE Award,aims to promote innovations from the cultural and creative sectors, especially those that spill over into the wider economy and society. The winners are decided by an independent jury.
The deadline for the online submission of all applications is 30th April 2017 midnight.
The 2017 jury consists of:
• Anne Stenros, Chief Design Officer Helsinki, Helsinki, Finland (Head of Jury)
• Pieter Aarts, ContentKings Rotterdam; Board Member of the Design Management Network, The Netherlands
• Kurt Mehnert, President of the Folkwang University of the Arts, Essen, Germany
• Gilles Rougon, Member of the Board of Director 2015-2017 WDO - World Design Organization, Paris, France
• Miriam van de Lubbe, Van Eijk & van de Lubbe, The Netherlands
• Markus Wild, WILD Design, Shanghai/Gelsenkirchen, Germany
For more information about the network and the award please go to www.nice-europe.eu.