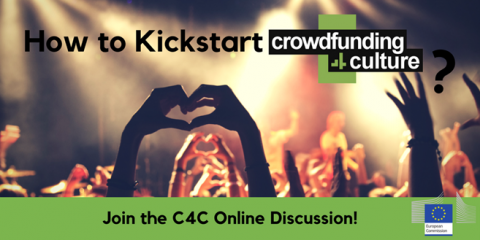 Crowdfunding has been growing substantially in the recent years. Thousands of cultural organisations across Europe have used crowdfunding for community engagement, audience development, marketing as well as for funding. However, research shows that lack of awareness and understanding of this tool are among the main reasons why actors in the cultural and creative sectors (CCS) do not make use of it.  
In order to breach this information gap, the European Commission launched Crowdfunding4Culture, with the aim of making crowdfunding more accessible to creatives and cultural organisations.
The Crowdfunding4Culture team has identified 28 actions that the European Commission (EC) could undertake in order to support the development of an active CCS Crowdfunding Community. Before handing them to the EC, we invite creatives, platforms and supporters to check these proposals and vote for their preferred action. 
By joining the online consultation you can:
Vote for or against each proposed action
Improve the actions by adding suggestions in the comments
Propose new actions in the comments
Invite peers to join the public discussion
Your comments and votes will help shape, create and kickstart the CCS Crowdfunding Community!
Have a say in the future infrastructure of cultural funds in Europe: Join the online discussion now!
Discussion closes at 01.12.2016
For any questions and queries, do not hesitate to contact us at info@crowdfunding4culture.eu