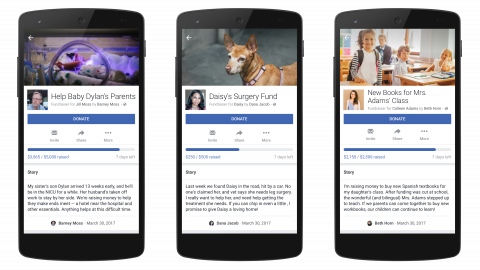 Facebook announced Thursday it will expand its charitable giving tools to include personal fundraisers. The campaigns will allow people 18 and older to raise money for themselves, a friend -- or someone or something not on Facebook, like a pet.
Previously, the company allowed users to raise money only for nonprofits. Personal fundraisers will launch in the United States over the next few weeks. 
Facebook will start personal fundraisers with six categories including education (such as tuition and books), medical, pet medical, crisis relief, personal emergencies (like a car accident or theft), and funeral and loss. Initially there will be a 24-hour fundraiser review process before each campaign is posted, to protect against fraud and ensure the cause falls within one of the six categories. Eventually Facebook plans to expand the campaign categories and automate more of the review process.