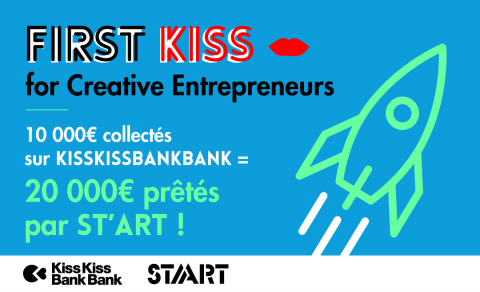 The KISSKISSBANKBANK crowdfunding platform and the ST'ART investment fund, for creative companies, are partnering to jointly finance the launch of a project, its implementation and its development. In concrete terms, if the selected projects carry out a successful campaign of at least EUR 10,000 , the project has access to a loan of at least EUR 20,000 from the ST'ART fund.
Conditions of eligibility: Develop an entrepreneurial project; Be incorporated (including asbl) or plan to do so before the loan is made available; Have its headquarters in Brussels or in Wallonia or plan to do so before the loan is made available; To develop an activity in the Cultural and Creative Industries sector (the sectors concerned are listed on the ST'ART site). The eligibility of the project activity is subject to ST'ART's assessment. In general, meet the eligibility requirements of KKBB and St'art
Ready ? Register your project before June 16, 2017 on the KissKissBankBank website, by checking the "First Kiss for Creative Entrepreneurs" call; Answer the more complete questionnaire that will be sent to you; If your project is eligible, a complete business plan with a financial plan with the Articles of Association, Balance Sheets and profit and loss accounts for the past 3 financial years will be returned by July 6, 2017.
The ST'ART investment fund is a unique financial instrument in Brussels and Wallonia. Created at the end of 2009, it is the result of a common will of the Walloon Region and the Wallonia-Brussels Federation to support the development of the creative economy by strengthening the solvency and growth capacity of SMEs active in the Industrials Cultural and creative. The fund is made up of loans and equity investments. Funding may be used for the creation or development of activities. Thanks to the expertise developed over the years in the fields of culture and creativity, ST'ART has become the financial partner of creators. The objective of the fund is also to induce leverage with banks and private investors.