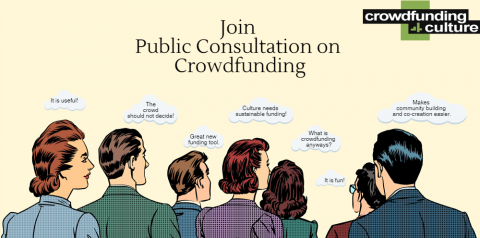 "You can coddle your rage, or you can fully engage."  ― Tony Cleaver
At midnight on March 31st 2017 the European Commission public consultation "Policy Actions for Cultural & Creative Crowdfunding" will come to an end.
We've reached out to over 3.000 people, but only 80 have actively participated in the discussion. We're wondering, why so little engagement? And we're calling for action!
Do you think governments should encourage the use of crowdfunding? Can culture be left in the hands of the crowd?
Vote & comment on the proposed actions now:
https://www.discuto.io/en/consultation/18069?page=1
Why should I participate?
A diverse group of participants will better represent what's really important to the discussion.
What will happen to my input?
The statements will be anonymously analysed and send to the European Commission as recommendations. Any future actions from the EC regarding the use of crowdfunding for culture will depend on these actions.
P.S.: Sharing is caring! To keep discussions like this public, we need more people to engage and voice their view. Invite everybody who's interested.