Crowdfunding 4 Culture Conference

Crowdfunding 4 Culture Conference
Brussels 20 June 2017
Hotel Bloom, Rue Royale 250, 1210 Brussels
The Agenda
The Crowdfunding4Culture Conference "More than funding" will be a platform for European creatives and cultural organisations, crowdfunding platforms, researchers, start-ups, investors, and policy makers to meet, network and discover the benefits and challenges of crowdfunding. 
The crowdfunding landscape across Europe is developing rapidly and is highly dynamic. Crowdfunding is seen as an innovative tool to provide the cultural and creative sectors (CCS) with an alternative approach to access finance. By motivating the crowd to participate in cultural creation, either by the method of donations, rewards, lending or equity, crowdfunding is generating not only finance for the sector but it also opens new doors for audience development and engagement. On the other hand, crowdfunding is no 'easy money'. To set up a strong and successful crowdfunding campaign one needs to have a very sharp view on the vision/mission of the project/organisation, strong communication skills, invest time to manage the campaign, etc.
The Crowdfunding4Culture Conference will look into the current state of crowdfunding for the CCS and its role in lowering the barriers for creatives and cultural organisations to access finance. During the event, examples of public/private partnerships (e.g. matchfunding) with crowdfunding platforms as well as information on campaign tips and tricks will be shared. 
The event is part of the Crowdfunding4Culture pilot project and is organised in cooperation with the European Commission. 
Programme
08.30 – 09.15
Welcome coffee and accreditation
09.15 – 09.30 
Welcoming Remarks: By Tibor Navracsics, Commissioner for Education and Culture, and Silvia Costa, Member of the European Parliament  (TBC)
09.30 - 09.45 
Does crowdfunding work for culture? Presentation of the study results by Kleitia Zeqo

09.45 - 11.00

Can crowdfunding help renew the relationship between culture and society? 

Moderator Mary McCarthy to discuss with Lisa Westcott Wilkins, Mikel Diez Sarasola, Ide Mens and Christoph Nagel.

 
11.00 - 11.30
Coffee Break

11.30 - 12.45

Investing in culture through crowdfunding: risks and opportunities.

Moderator Oliver Gajda to discuss with Virginie Civrais, Henri Lauppma, Luka Piskoric and Elisabetta Lazzaro.

12.45 – 14.00
Lunch break
14.00 - 15.30
Workshop I 
Masterclass on Crowdfunding Platforms How can crowdfunding platforms best assist creatives and cultural organisations?  Moderators:  Roy Cremers & Kristel Casander, Voordekunst 
14.00 - 15.30
Workshop 2
Tips and Tricks on using Crowdfunding for creatives and cultural organisation Moderators: Isabelle De Voldere & Kleitia Zeqo, IDEA Consult 
14.00 - 15.30
Workshop 3
Harnessing the power of the crowd to leverage public and private funding for culture Moderators: Sylvia Amann, Info Relais &  Joost Heinsius, Values of Culture & Creativity 
15.30 - 17.00

Coffee break and Interactive Session of parralell presentations by: Marko Gregovic, Ludo Dhelft & Sara Stevenson, Martina Lodi, Eduard Meier, Stefanie Thomas, Jonathan Bone, Lisa Westcott Wilkins and more.

17.00 - 17.15
An interview with the European Commission on the proposed Action Plan and next steps to bring crowdfunding4culture forward with Walter Zampieri and Mary McCarthy
17.15 - 17.30
 
Concluding impressions and Wrap up by Isabelle De Voldere 
 
The venue
The Crowdfunding4Culture conference will take place on 20 June 2017 at Hotel Bloom in Brussels. 
Hotel Bloom Brussels
Rue Royale 250
Metro: Botanique
Railway station: North Station
T: +32 2 220 66 11
E: book@hotelbloom.com
W: www.hotelbloom.com 
Hotel Bloom is accessible to people with disabilities. In case you need any assistance, please get in touch with the organisers. We will make every effort to accommodate your needs. 
Wireless Internet is available throughout the hotel. 
How to get to the venue 
The hotel is located beside the Brussels inner ring road and adjacent to the beautiful Botanical Gardens (see the map in the next page): 
Just 20 metres away from "Botanique" station for metro, trams and buses.
Brussels Airport is at 12 km or 25 minutes by taxi with normal traffic. There are also direct train connections between Brussels Airport and North Station and an express bus line from ''Schuman'' station to Brussels Airport.
Nearest rail connection is Gare du Nord (North Station) at 500 metres.  
The hotel has a private car park for a maximum of 115 cars. 5. Thalys and Eurostar station (Gare du Midi) is reachable by metro:  
• direct train connections between the North and South stations.
• metro lines 2 or 6 from the South Station to ''Botanique''.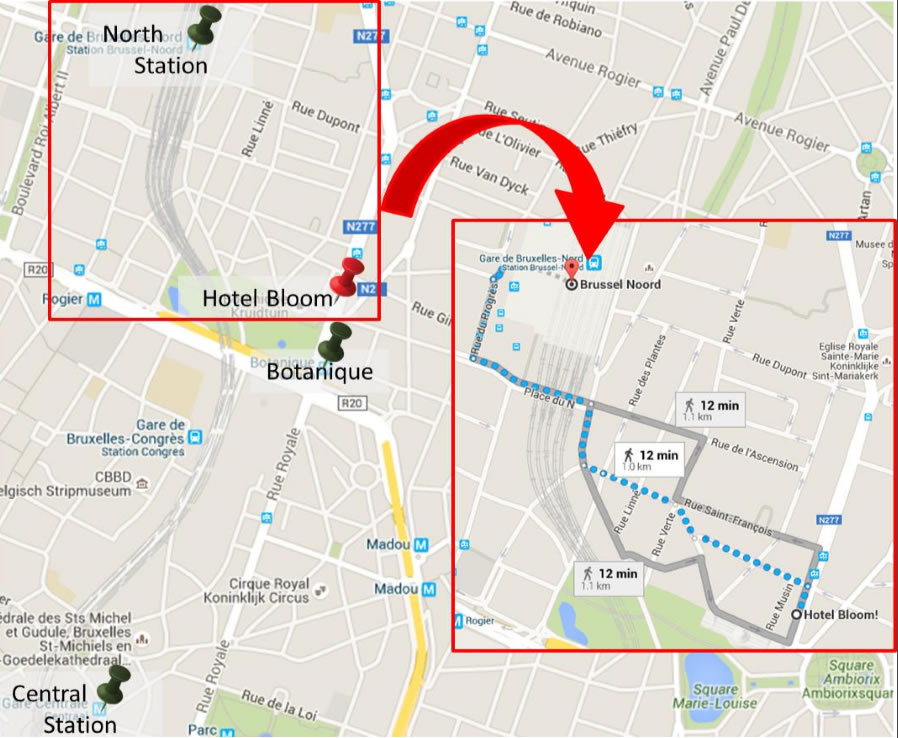 Contact